After completing the 10-week residential programme in the clinic, fellows have to face the most critical phase of the treatment process. They have rebuilt self-confidence, are motivated again, feel more energetic and are ready to make new plans. At the same time, they are insecure because they may have changed, but their social environment has stayed the same. Going back home can therefore be very confronting, causing old behaviour and convenient habits to recur. Not being in a safe environment with the right guidance can lead to relapse and trigger severe consequences. For that reason, it is essential they receive a great level of support during this period.
Aftercare will start right after clinical treatment. One major part of the recovery process is to find purpose again. What are you going to do with your life and even more important; how are you going to do that?
In close cooperation with the family, the fellow, possibly a referring therapist and our global network of healthcare professionals, a clear and attainable tailor-made programme will be suggested for you to follow at home. This could include extra specialist care, help from a recovery coach, residential aftercare or (online) aftercare. To help families transition as smoothly as possible, Yes We Can Youth Clinics offers several aftercare options:
- Yes We Check-in
- Yes We Do Online
- Aftercare For Life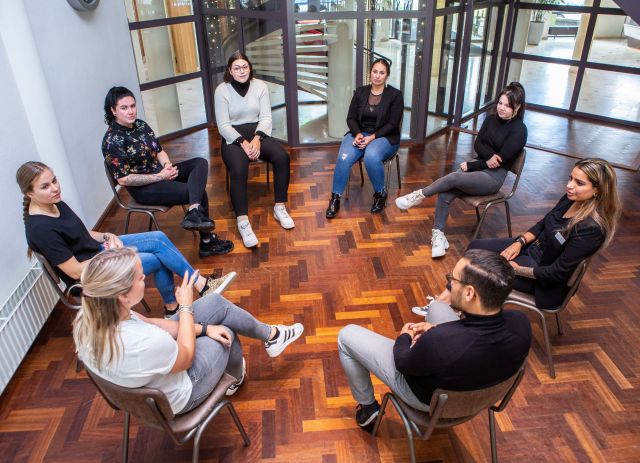 Yes We Check-in
Each fellow and also parents/carers will receive an online "touch base" moment every week by one of our (family) counsellors, for a period of five weeks (weeks 11-15). Yes We Check-in is an integral part of treatment at Yes We Can Youth Clinics.
Yes We Do Online
Yes We Do Online is a 10-week (weeks 11-20) programme, consisting of 90 min. digital group sessions, twice a week. Over the years, we have treated more than 43 nationalities from all continents and to cater for the needs of our global community, we believe access to an international network of Yes We Can fellows is best organised online. Group sessions are guided by a professional Yes We Can Aftercare Therapist and its aims are comparable to those fellows experienced in the clinic. Experiences will be shared and direct feedback received. The aim is to support fellows in applying the tools learned during treatment in everyday life. Checking in with the community is an important stimulus to keep you grounded.
Days and times of Yes We Do Online

Monday

10.00 – 11.30 BST

Tuesday
17.00

– 18.30 BST

Thursday

17.00 – 18.30 BST
Aftercare For Life
As part of the Yes We Do programmes, we provide 'Aftercare for life'. All former Yes We Can fellows and families having completed Yes We Do, obtain the right to drop in once a week (on request and when truly needed) for the rest of their lives, either digitally or physically.
Read our folder
Questions
For questions about our aftercare programmes or tailor-made aftercare, please contact us at +31 (0)85 02 01 222 or fill in our contact form.
Contact form