After your initial contact with one of our Case Managers, we normally do get a pretty good picture about the current situation and what might be needed. Admission, however, can only take place after a full 4-hour assessment by our intake team consisting of a counsellor, psychologist and psychiatrist. During intakes, we appreciate the presence of at least one parent/carer. For legal and safety reasons, intakes are always done in the Netherlands.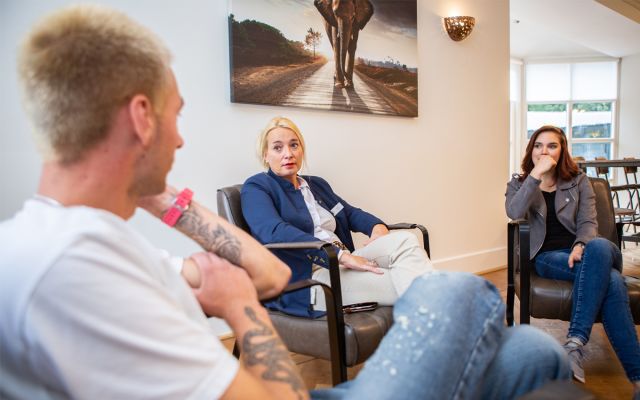 In some cases, extra help is needed before the actual intake can take place. During these pre-intakes, one of our Counsellors will offer you all the consult you need in order to make the final step towards intake and admission. Working on a global scale means we most probably will intensify our contact via Skype and in some cases we even fly out to come and see you. For those visiting our offices in Oirschot (NL) or London (UK), pre-intakes are free of charge. Neither do we charge for Skype calls. In the event you would like to make use of our Counsellors Visitors Service, a fixed fee of €2,500 will be charged. This fee excludes travel costs, yet will be deducted from the overall treatment costs upon admission. Of course you will be provided with a full overview of costs for your approval beforehand.
For intakes, please bring the following documents – without these documents, the intake interview cannot take place:
Valid ID card/passport of the participant
Previous medical/psychological reports and other reports
List of medication from the pharmacy
Medical ID card or health insurance policy
Contact and registration
Yes We Can Youth Clinics can be reached by phone from Monday to Friday from 8:30 a.m. to 10:00 p.m. and on Saturday and Sunday from 10:00 a.m. to 4:00 p.m. (GMT +1) via phone number: +31 (0)85 02 01 222. Please feel free fill in our contact form if you have any questions. If you want to register for an intake, please use our intake form.
Intake form