Quelsa research
Something we find extremely important is the effectiveness of our treatment. This ties almost directly with our motto: everything for the fellow. Of course, we can only achieve the best treatment by measuring our results and effectiveness and then immediately improve. The numbers tell the tale and that's why we had the independent research agency Quelsa conduct another effectiveness measurement. Below you can find a factsheet with the most important results from the survey:
Key figures 2021/2022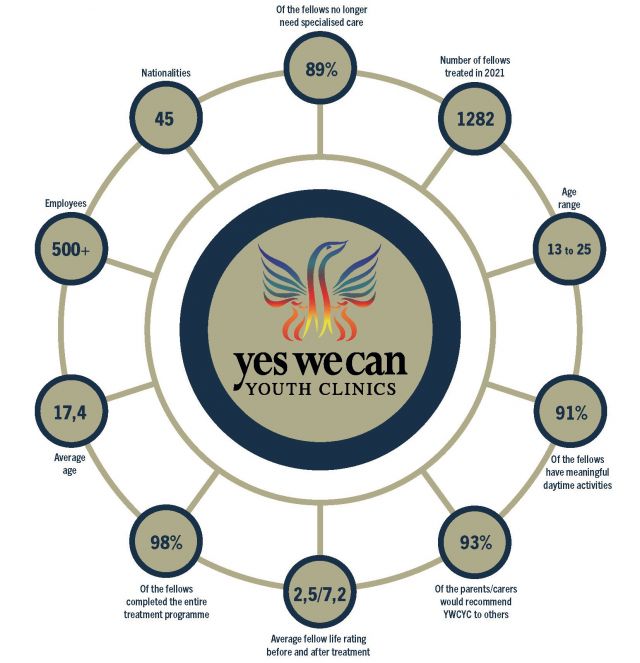 Dutch Healthcare Inspectorate satisfied with Yes We Can
The Dutch Healthcare Inspectorate (IGZ) has assessed Yes We Can Youth Clinics and the results are positive. The IGZ evaluation of Yes We Can focused on a total of 24 areas. These areas varied from employing competent and knowledgeable staff to official certification of quality. In its final report, the IGZ concluded that Yes We Can Clinics performed well in all 24 areas. Such visits are always carried out without prior notification and are standard procedure for Healthcare providers that fall under the Dutch Act on the Quality of Healthcare Institutions. The IGZ suggested several improvements based on its initial findings, which have for long been implemented.
Jan Willem Poot, Founder & CEO: "It is only right that healthcare providers and the way they function are subjected to critical assessment. The Inspectorate's inspections are an obvious part of that process. Yes We Can Youth Clinics is proud of the fact that we are doing well on all of the Inspectorate's requirements. It shows yet again how we have managed to set up a professional organisation that meets all the requirements and rules for healthcare institutions in a relatively short time." Yes We Can Youth Clinics started in 2011. Read more
The certified quality management system of Yes We Can Youth Clinics meets all the demands as set forth by ISO9001:2008. In addition, Yes We Can Youth Clinics is HKZ certified (HKZ certification scheme for Mental Healthcare (2009). This means that our processes and protocols are not only defined, but also systematically evaluated and adjusted where necessary. The certificate confirms Yes We Can Youth Clinics is well-organised and that both fellows and parents are the main focus of everything we do.
Successful treatments
Yes We Can Youth Clinics' treatment program works, as shown by our high level of client satisfaction and the compelling results of the efficacy measurements (ROM). Compared to other providers active in youth mental healthcare, Yes We Can Youth Clinics manages a larger reduction in problem behaviour of clients treated. Moreover, two thirds of all youth treated do not even need additional care after Yes We Can.
Treatment approach
Yes We Can Youth Clinics offers an intensive, clinical treatment, supervised by professionals, including experts by experience. The treatment method follows the national multi-disciplinary guidelines, recommendations from the field and it meets the target group's needs. Yes We Can Youth Clinics believes in its treatment vision and has prompted the lives of many fellows and parents to take a positive turn. We believe in the power of the programme, offering our fellows support day and night. We remain committed to constantly improving our approach in order to keep offering the highest quality of care.
Contact us
Yes We Can Youth Clinics can be reached by phone from Monday to Friday from 9:00 a.m. to 10:00 p.m. and on Saturday and Sunday from 10:00 a.m. to 4:00 p.m. (GMT +1) via phone number: +31 (0)85 02 01 222. You can also send us an e-mail via out contact form.
Contact us