In the spring of 2019 the Yes We Can Group had a large employee satisfaction survey carried out by research agency DUO Market Research. We find it extremely important to know what the people who are committed for 200% to our fellows and their families think of Yes We Can Youth Clinics as an employer. The results are in and we are happy to share them with you on this page.
Beautiful results
First of all, we are incredibly grateful for the high response rate: no less than 79% of our people have completed the survey. In addition, we are pleased with the extremely good scores that emerged from the survey. We score an 8.5 for general satisfaction. A fantastic grade that is well above the average for the "Care and Welfare" sector in the Netherlands. The percentage of employees who are positive about the atmosphere at Yes We Can and the content of the work is unprecedented: 93% and 91% respectively. But we are most proud of the figure in which the Yes We Canners show the extent to which they indicate that the clients at Yes We Can Clinics are pivotal within our organisation. On this point we score no less than an 8.7 while the average within our sector is a 7.3. We find it really incredible to see how everyone who works at Yes We Can Clinics works every day to give a positive twist to the lives of all those young people and their families who are at their wits' end. If everything else fails, they will find a place with us where they can be heard and helped.
We are not the only ones who are impressed by the results of the research. Vincent van Grinsven, director of DUO Market Research:
"Over the past twenty years, our agency has carried out surveys among employees on their satisfaction and involvement for many organisations. Rarely do we see that employees are so enthusiastic about their employer. And what is particularly striking is the 100% focus of everyone on the importance of the fellows. Really impressive!"
Infographic
In the infographic below you can find all the results of the employee satisfaction survey.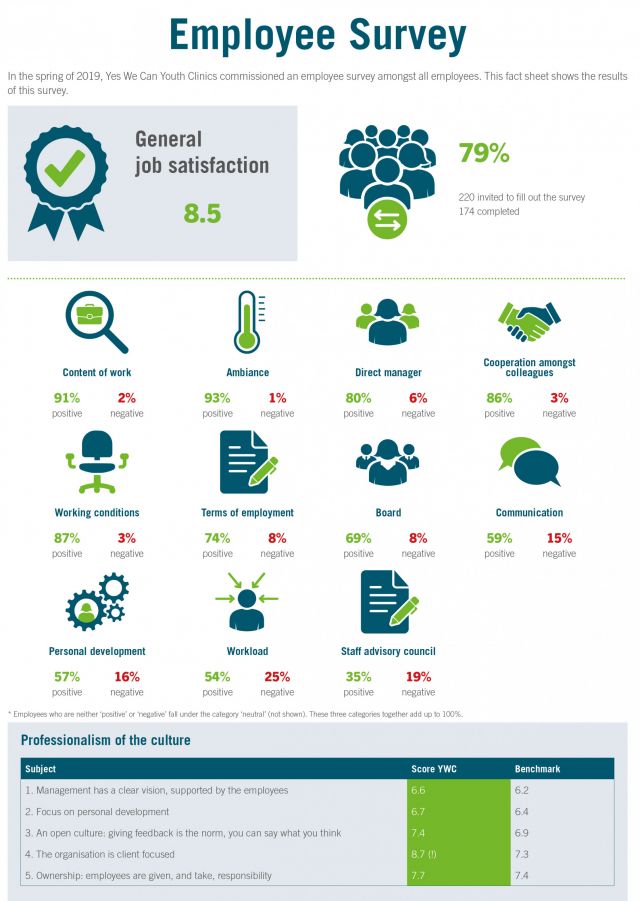 Improvements
Of course, we do not close our eyes to results that are not so well. We are proud that we received high scores in so many areas, but we think it is even more important to know in which areas we need to improve ourselves. For example, our employees indicate that they are not satisfied with the high workload, the opportunities for personal development, the communication within our company and the visibility of the employee participation council. We immediately picked up on this feedback and it remains an ongoing point of attention for us. We will do everything we can to ensure that in the future we are even better equipped to make a difference in the lives of our fellows and their families. Yes We Can!