My daughter Romy was depressed, panicking and crying daily. She did not want to keep on living. She was tired and sad every day. She asked why she was born, her life had no future and she hated herself. Still, she did try to go to school or field hockey practice every once in a while and make the most of it. She often came home empty and burned out. Everything she did tired her, nothing gave her energy and she did not think she was worthy anyone's time. Only on the days that she ate very little, did she feel a little confident. Her eating pattern was the only thing in life she could control.
By not eating much, she got a good feeling and a flat stomach. She thought she could perhaps become a model that way. However, she became even weaker and even more lifeless when she ate so little. I tried to do everything I could for her: I tried to unburden her as much as I could and only have her do things she liked somewhat – all to make her life as pleasant as possible.
We tried talking to her for many years. There were some ups in her life, but mostly downs. She got in touch with a psychiatrist who connected with her and she seemed to be doing better. Then her psychiatrist became chronically ill and Romy relapsed. After eating very little for about half a year, she suddenly went for it and started eating everything she could find and threw it up afterwards.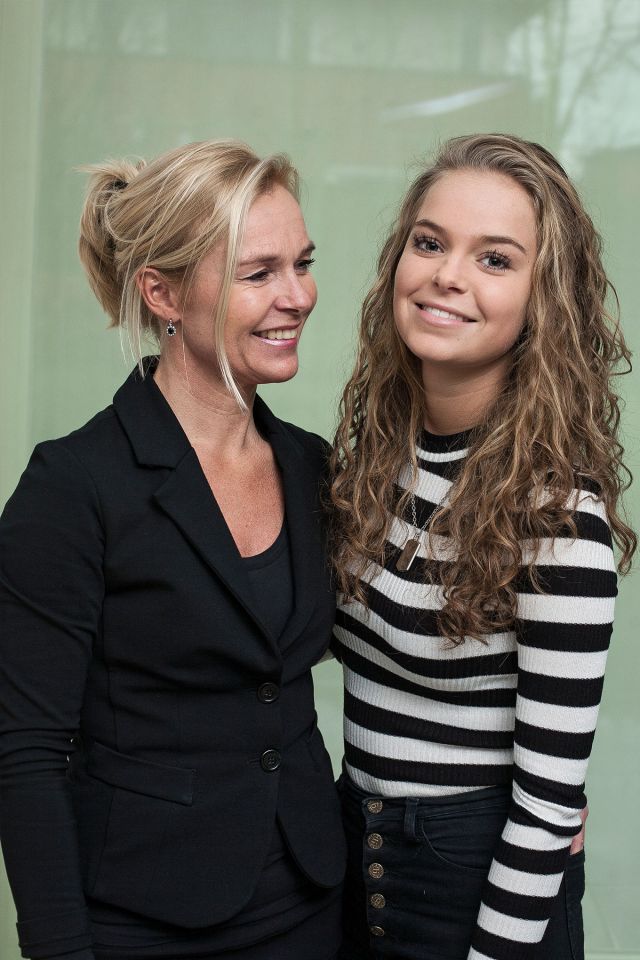 She then got in touch with a psychologist, whom she met for one hour every week. There was no progress and the situation started to get the better of me. Romy frequently called me at work, asking me if I could come home because she couldn't take it anymore. By then, we had been down this road for two years and I was desperate – until I heard about Yes We Can Clinics. I saw the terms 'mood changes', 'eating disorder' and 'depression' and thought to myself: 'this is it'.
Romy became convinced on the day of the intake; this was what she was going to do. She felt as if she could be helped in this clinic. It was likely a place where people would understand her. Six days later, Romy was in the clinic. She was happy and singing in the shower in the six days before she left: her problems were finally acknowledged.
I wrote in my diary for Romy every day. We had four meetings with other parents in Heeze. That was very special. You see how all the parents struggle with their child's problems and missing them during those weeks. After five weeks, there is a parent day in the clinic and everybody was looking forward to that day.
The day started at 9.30 and Romy finally joined the group at 13.30. She immediately whispered she wanted to go home and no longer wanted to stay here. After the session, we had 20 minutes to talk to her. She indicated she did not feel safe. All the other fellows had gone through a lot worse than she ever had. She was depressed without a clear cause. She did not feel accepted or understood by the group.
Despite the fact that it was hard not to have Romy at home, I had prepared myself for ten weeks. My first response, without thinking, was to tell her I wasn't ready yet to take her home. She said it would be 'better' at home and that she would try her hardest. But she had always tried her hardest, it was never about that. She never wanted to be depressed and fought really hard at all times.
She was not allowed home – something she had not expected. My husband was so touched by what she had said; he would have been willing to take her home. We were allowed to send and receive mail during the last five weeks. We received mail from her once a week. There were a lot of letters filled with stories about what happened in the clinic, what she was confronted with and who got sent home.
The young people in the clinic are there voluntarily and you are expected to work on your recovery and stick to the rules. If you don't want to work on you recovery any longer and you break the rules, you have to leave. In that case, your parents are expected to pick you up. Knowing Romy did not want to stay in the clinic any longer, we feared for days Romy would get herself dismissed and we would get that phone call. Thankfully, this didn't happen – she made it all the way through the end.
For her, those ten weeks were absolutely required. She started to change only after five weeks, started seeing things differently, started to accept and love herself. Before she left for the clinic, she hated herself. She, the one with nothing to complain about, hated herself. She didn't understand it either, which made her even more depressed and she started hating herself even more.
By fighting in the clinics for weeks, working through group sessions, individual sessions and the outdoor activities, she thankfully started to realise she is worth it, that she is actually good enough and that she should be proud of herself. Completing those ten weeks was a victory for her; the memories of Yes We Can a great reward.
It was a real struggle for ten weeks, because fellows aren't always nice to one another. This has shaped her and made her into who she is now. She is doing really well and she lives for every day. For her, 'good is good enough'. Furthermore, since Romy returned from the clinic, we now accept what we cannot change and we change what we can change. The clinic has become a part of our lives. Every day I am grateful for all the things we have learned and the wisdom she has brought us.
During those ten weeks, Romy was able to talk for hours with experience-experts about the pain she felt and how to deal with that. Every day she remembers something about the clinic. For example, how something went, what she thought of it or what it gave her at that moment. She says she cried and fought for weeks, but that she is now able to think rationally and positively. She's feeling well and I feel she's sort of been re-set.
I am proud of her efforts, her perseverance and of what she learned in the clinic. The counsellors, coaches, medical staff, the entire clinic's staff – all of them are professionals. They worked incredibly hard on our daughter's recovery and with success. The fact that life can change like this, is very special and I wish it for everybody.